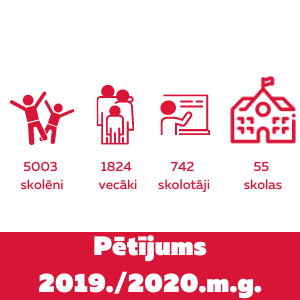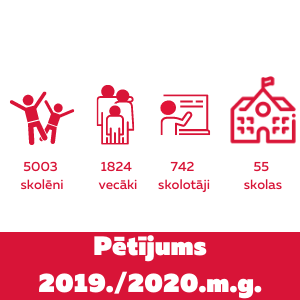 Do schoolchildren know what mobbing is? Have they experienced it during the past 12 months? How do they act in this situation? What help did they seek? Where would they want to receive help in future? 
Do school teachers know to recognize mobbing? Is the school implementing activities to reduce mobbing? How you encountered mobbing among grownups at school? What help do teachers need in order to reduce mobbing in class?
Do parents know how to tell if their child is suffering from mobbing or is an offender? How would parents act in a mobbing situation? What information would you like to receive to resolve a mobbing situation more successfully?
In collaboration schools of #Neklusē at the beginning of the school year and at the end of the school year, we survey teachers, schoolchildren and parents to find out what is the level of mobbing at school and do they know what to do in a mobbing situation.
During 2019/2020 school year we did the study about mobbing involving schoolchildren, teachers and parents. Over the course of the school year, the surveys were completed by 5,003 schoolchildren from 55 schools, 742 teachers from 50 schools and 1824 parents from 43 schools.
Be informed and view the collated survey results here:
In
2021/2022 school
year
we
will
carry
out a study about mobbing and
survey
school
staff
,
parents
and
schoolchildren
.